Mathew 25 Challenge
Family Guide
Small Group Guide
At church this weekend, celebrate the challenges you have conquered and see how you can follow Jesus call in Mathew 25.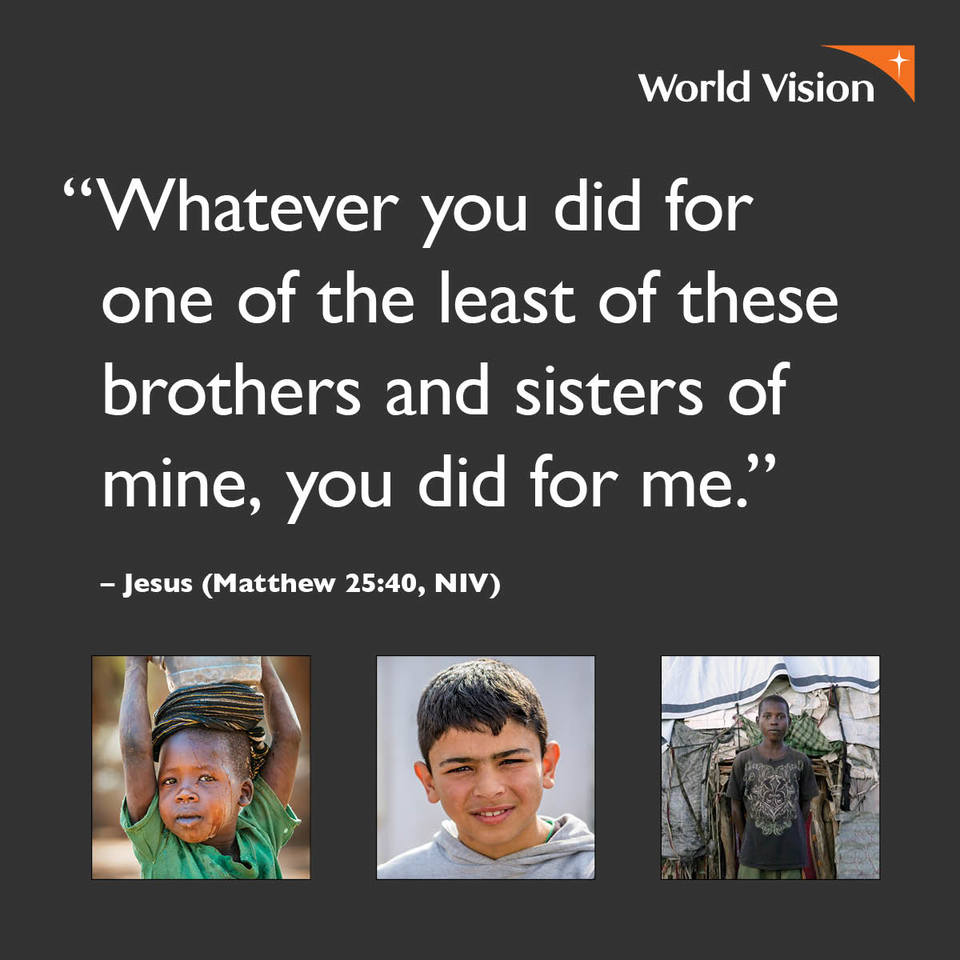 Day 6: Saturday
Almost there!. Today go on a prayer walk to reflect on Jesus call in Mathew 25. Or, if you missed a challenge you can catch up.
https://www.worldvision.org.nz/…/matthe…/m25-challenge-day-6
This week you have heard a lot from kids who don't have food or clean water. Today let us tell you a few stories of changed lives. We struggled a lot because of poverty, we couldn't provide enough food for our children or fulfill their simplest wishes. With the support of World Vision, our children are healthy and happy and I dream that one day they will be successful and independent. Shipa and 8 year old daughter Lamia.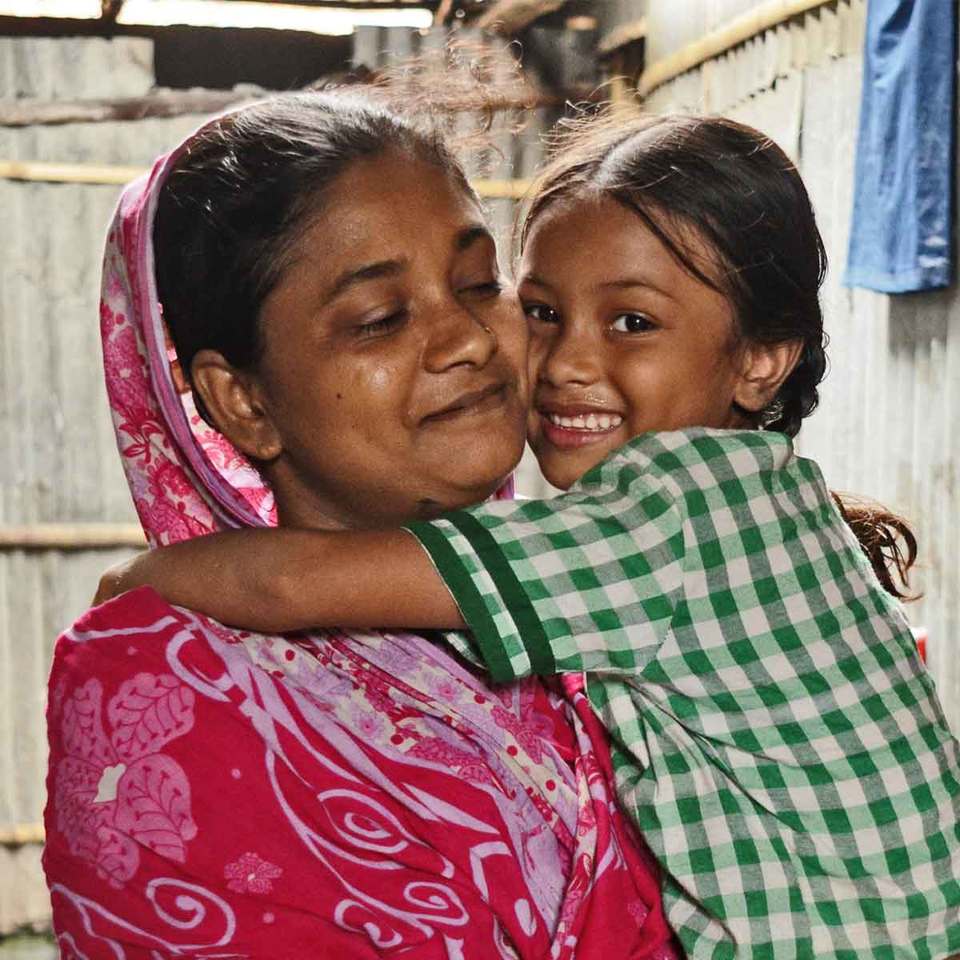 Meet Latha. She was forced to quit school and work when she was young because of her family's situation.
https://www.worldvision.org.nz/…/e…/matthew-25/latha-s-story
Welcome to Day 5 of the Mathew 25 Challenge! This might be a tough one. Today, reach out to someone who is sick or imprisoned by something.
https://www.worldvision.org.nz/…/matthe…/m25-challenge-day-5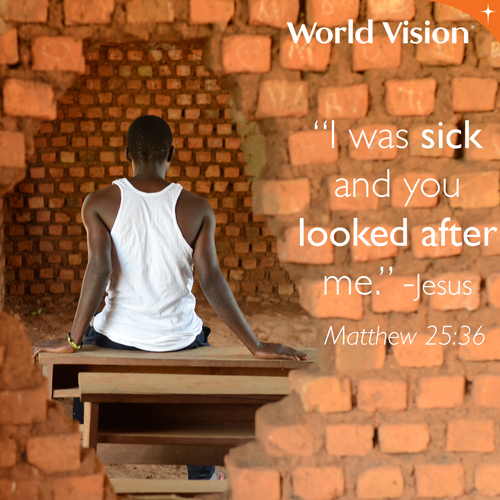 Choolwe (right) and her family don't have a lot to wear. They only wash their clothes twice a month because they don't have enough water.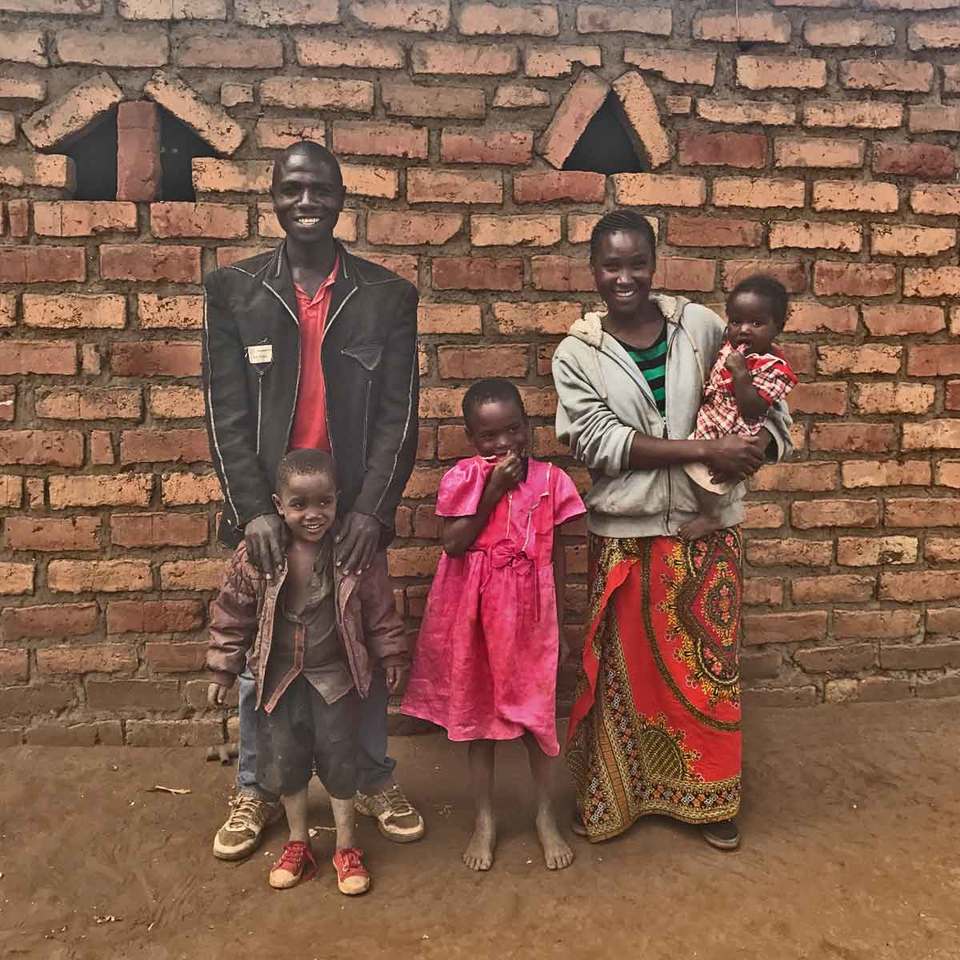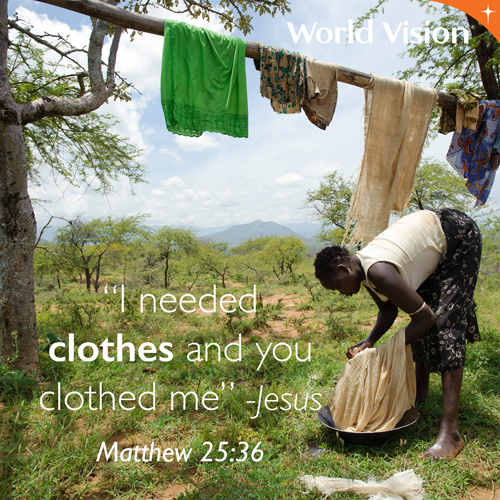 Thursday Day 4
Day 4 of the M25 challenge. How's your back feeling? Today you may feel even more uncomfortable - wearing yesterday's clothes! Don't forget to post your same - clothes selfie on social (#m25challenge) and tell your friends why.
https://www.worldvision.org.nz/…/matthe…/m25-challenge-day-4
Wednesday: Day 3
Gather your family together to sleep on the floor. Reflect on the experience of refugees around the world and pray for children like Ali, who don't have homes, or are strangers. Pray for all to feel welcome.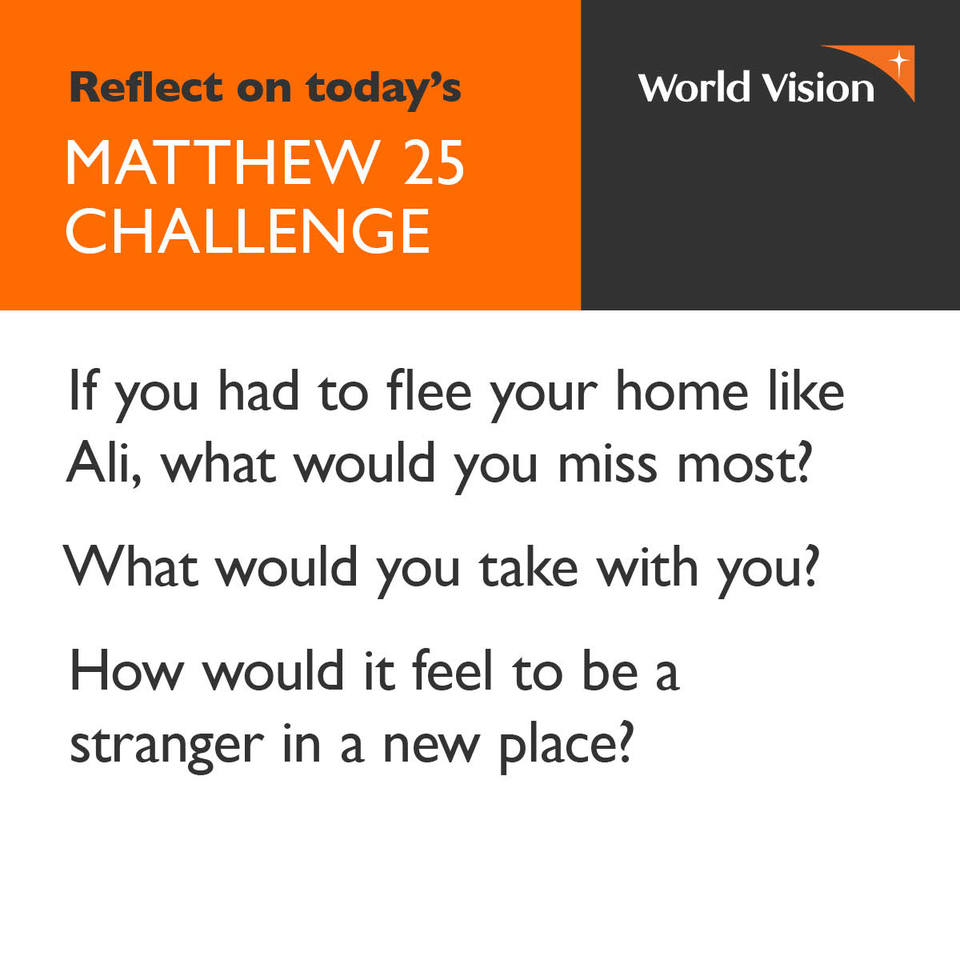 Enter Ali's world through this video. ( Parents, you may want to watch the video first to decide if the content is appropriate for your children to view)
https://www.worldvision.org.nz/…/eve…/matthew-25/ali-s-story
Meet Ali, at 13, he fled his home because of war and now lives in Lebanon.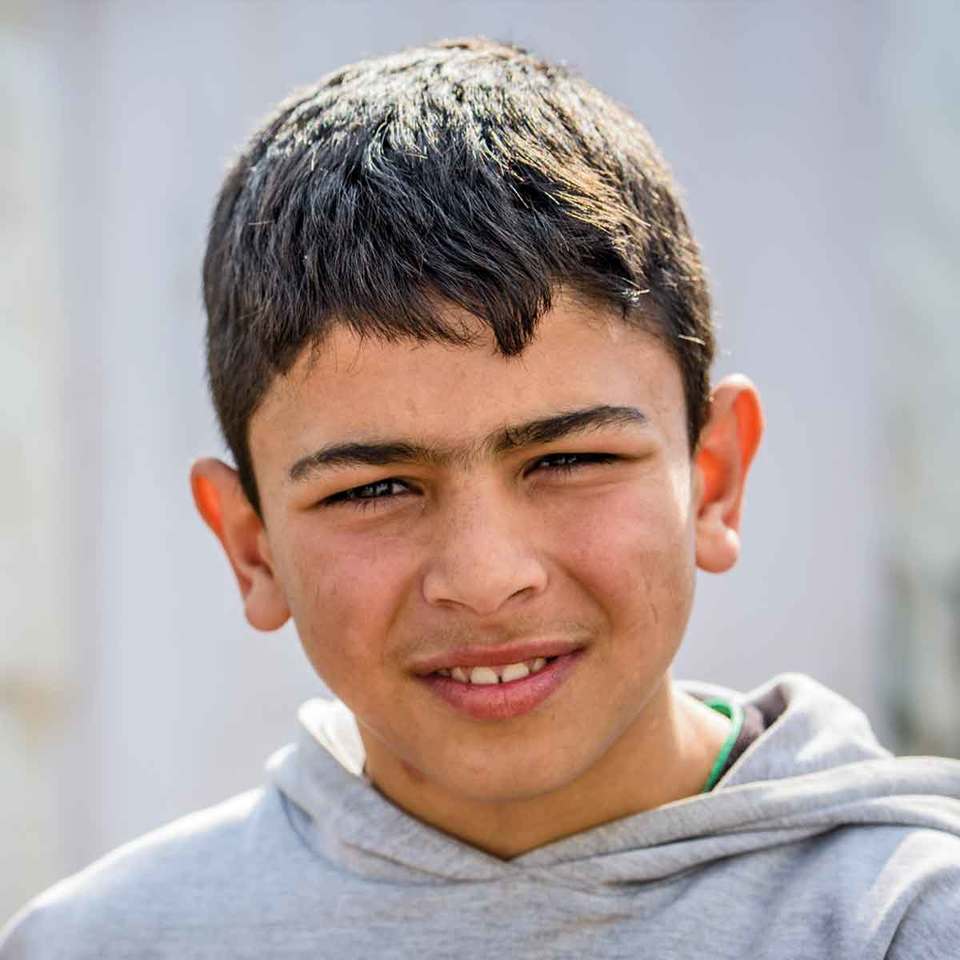 " I was a stranger and you invited me in" - Jesus (Mathew 25:35)
Tonight's challenge may be the toughest yet. We give up our comfy beds and experience what bedtime is like for thousands of refugees.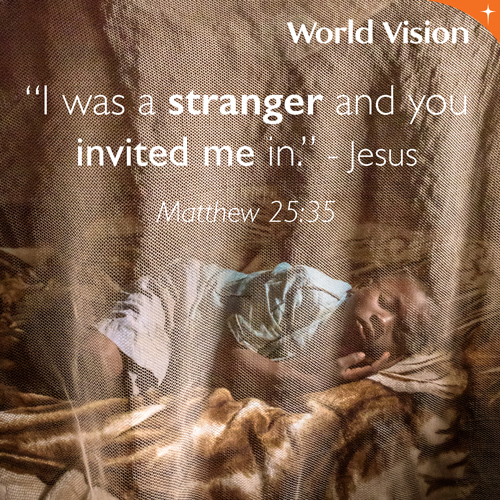 Tuesday
Day 2. No coffee, tea, soft drinks. Just water.
"I was thirsty and you gave me something to drink" - Jesus. Mathew 25:35
Skipping coffee or tea and only having water may have made it hard for us to get going this morning. ! We met 5 year old Cheru from Kenya who walks 6 km every day to collect water - dirty water. It is hard to imagine not having immediate access to clean water when we are thirsty
What was it like drinking only clean water today? Pray for clean water for all, and for all to know the living water of Jesus Christ.
Amen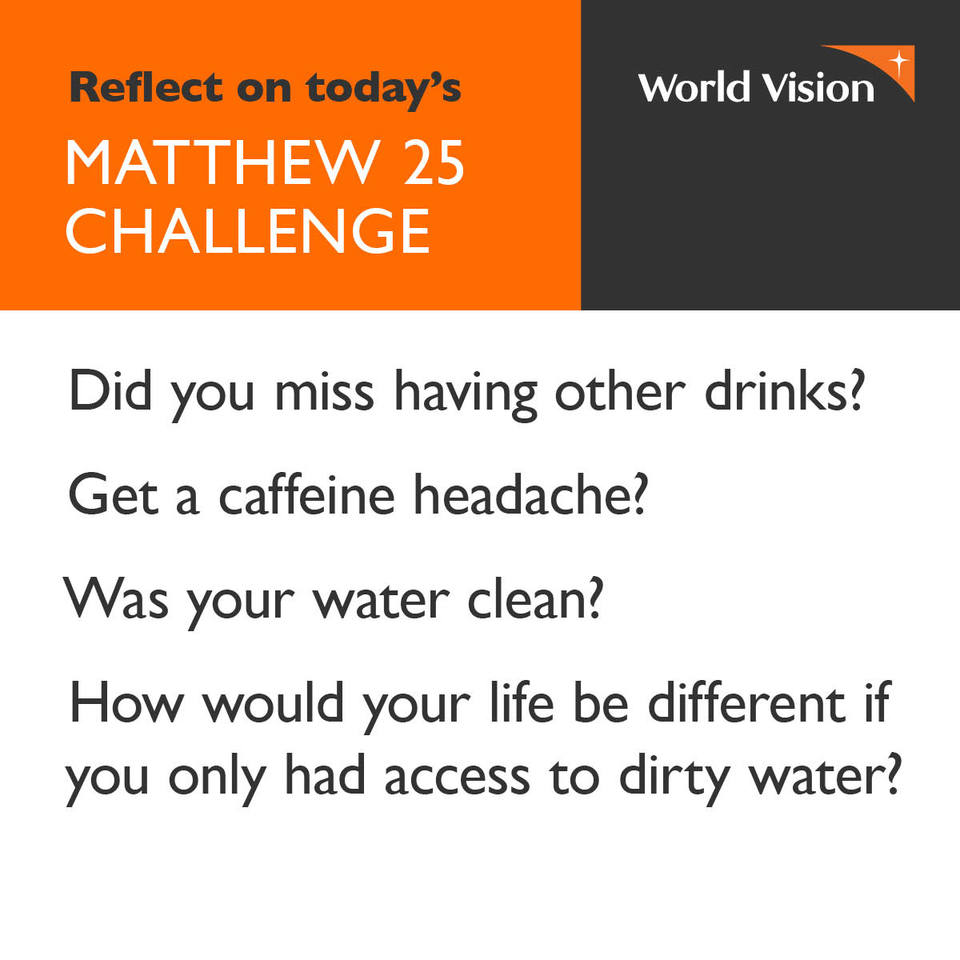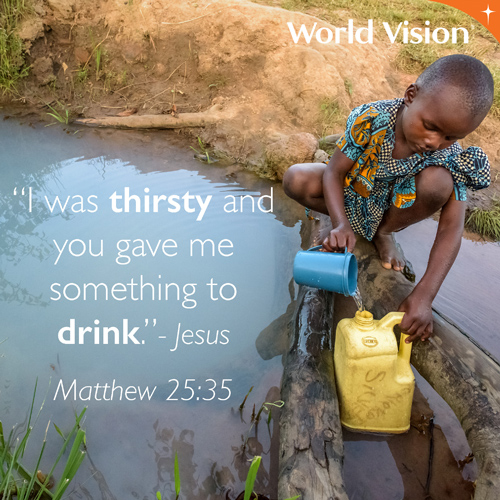 This is Cheru. She is 5 years old and walks 6 km daily to collect water. The tea pot is the largest container she can carry. Every drop is precious.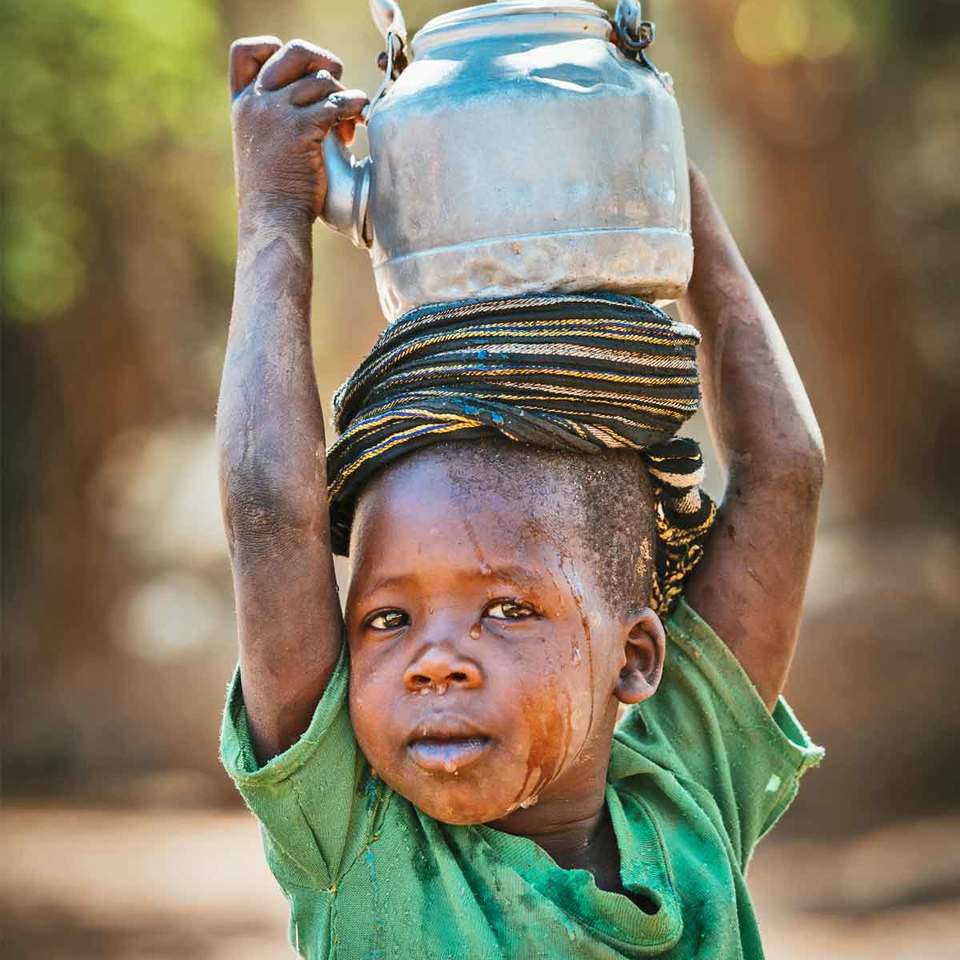 Monday.
Today you went hungry, as children like Ekai do. As you prepare and eat your dinner, reflect on this and pray that kids get the food they need.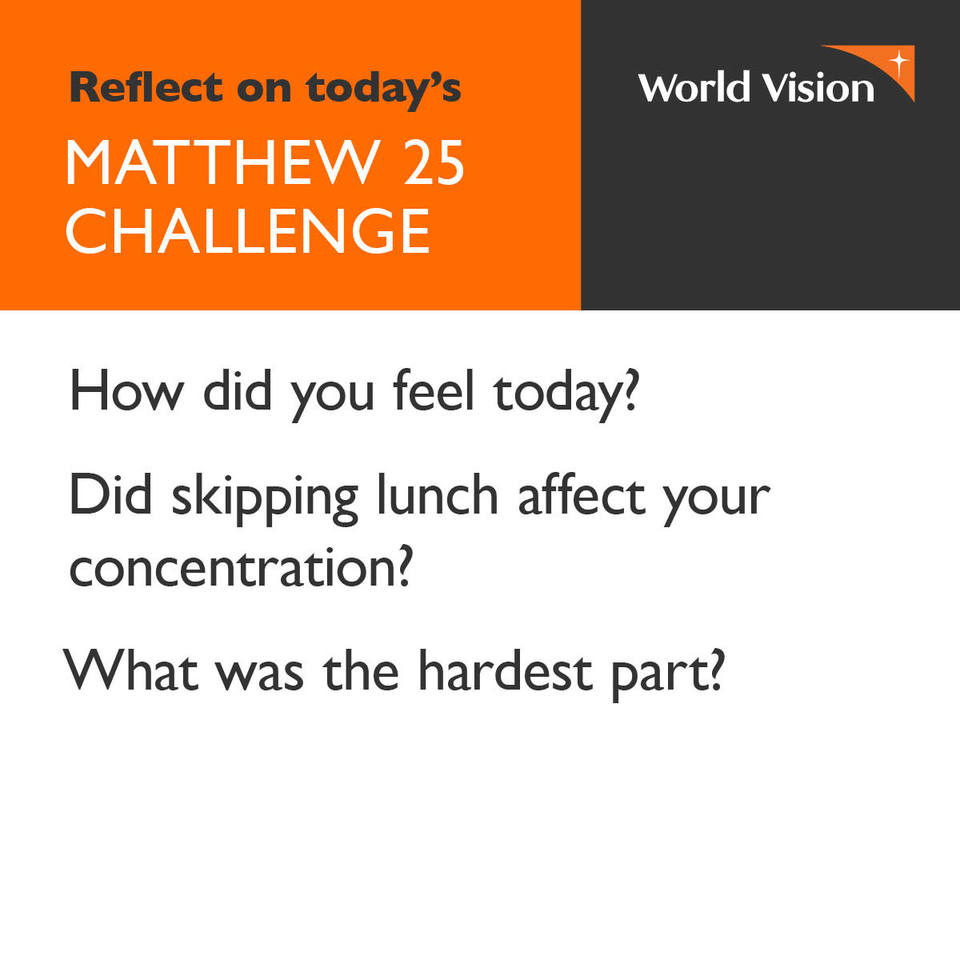 No lunch and a simple dinner!! An easy start to the week of challenges

. Don't forget to let us know how it is going, or if you have questions. Bless you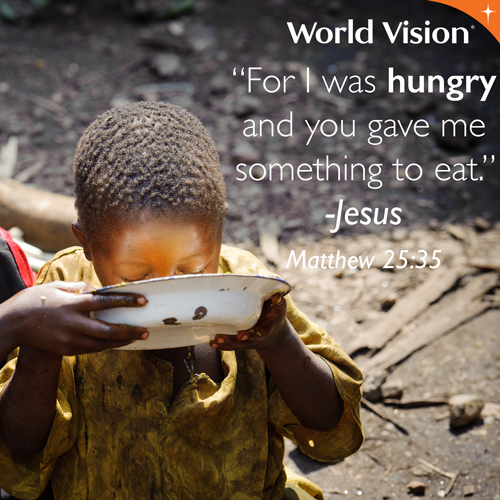 The video link for todays Challenge is here. https://www.worldvision.org.nz/connect/events/matthew-25/m25-challenge-day-1
Mangapapa Union, as a church, is taking part over the next week, in World Vision New Zealand's Mathew 25 Challenge - a daily text challenge to live sacrificially through the Word of God, in Mathew 25:35-36
We are excited to do this, though we know it will be a challenge, some things more than others. Our prayer is that it deepens our understanding of global poverty, leads us to pray for those who are affected by it all, while doing it together as a community. 
To join in is simple. Anyone can do it. Simply text your first name to 2060.
That is all you have to do. You will be sent a 3 or 4 messages each day with the challenge for the day, encouragement, and questions for you to reflect on, either individually, as a family or in a small group.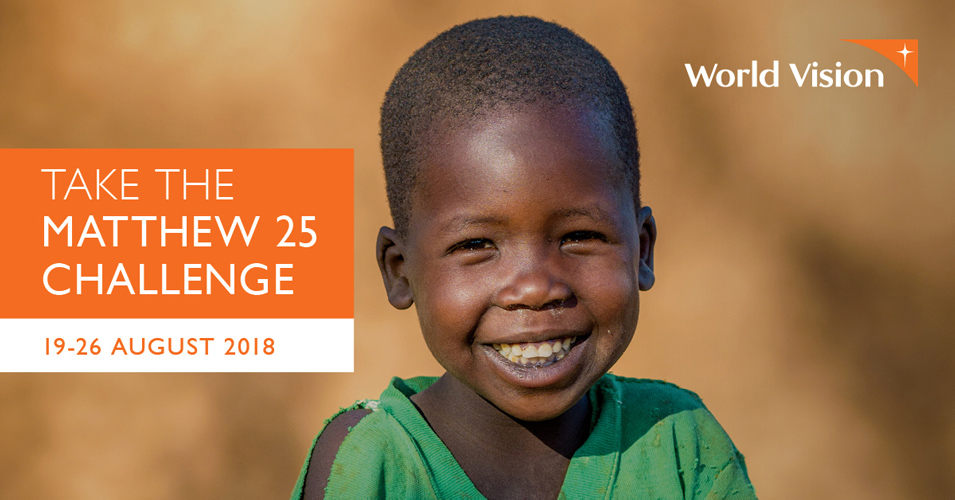 Then the King will say to those on His right hand, 'Come, you blessed of My Father, inherit the kingdom prepared for you from the foundation of the world: 35 for I was hungry and you gave Me food; I was thirsty and you gave Me drink; I was a stranger and you took Me in; 36 I was naked and you clothed Me; I was sick and you visited Me; I was in prison and you came to Me.'
37 "Then the righteous will answer Him, saying, 'Lord, when did we see You hungry and feed You, or thirsty and give You drink? 38 When did we see You a stranger and take You in, or naked and clothe You? 39 Or when did we see You sick, or in prison, and come to You?' 40 And the King will answer and say to them, 'Assuredly, I say to you, inasmuch as you did itto one of the least of these My brethren, you did it to Me.'