Mangapapa Church Centenary -
Over two weekends in April 2013, we celebrated and looked forward!
Read our Mangapapa Church Union Parish, Centenary 'e-Book' here. 
The first Church Service was held on this site on Sunday 13 April 1913. The pictures show the original building that remarkably was constructed in just 1 day, and the next day that first Service was held in it!  The original building still makes up the central part of our auditorium today.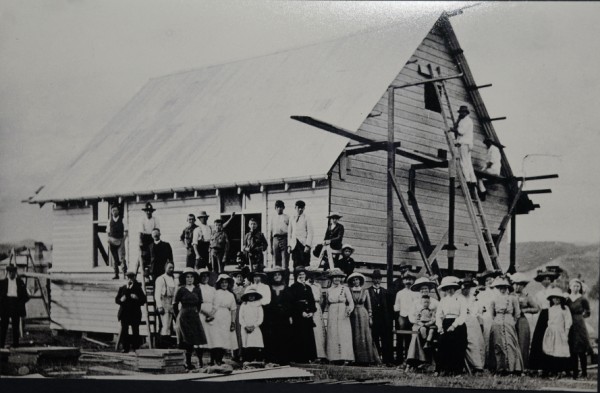 1)      Saturday/Sunday 13/14 April 'The Anniversary Weekend'– Guest Preacher, was Rev Niven Ball (Minister in the1980's). 
Saturday 13 April - Several events marked the Saturday 'Anniversary' of the first Worship Service, including a Centenary Rock and plaque unveiled... A 1913 Afternoon 'High Tea' with the Centenary Cake cut by the eldest and youngest members... A Centenary Mosaic created... A display of the Church through the years... and the Anniversary Dinner.
Sunday 14 April - Anniversary Thanksgiving Service & Luncheon... An Evening Prayer Service, closing the 100years, and looking forward...
2)      Saturday/Sunday 20/21 April - 'The Looking Forward Weekend', Children & Youth Focus – Special Guest Speaker Ian Grant.  
Saturday 20 April - 'Fathers Who Dare Win' Free Community 'Parents & Grandparents Breakfast' with Ian Grant. Close to 300 people attended, at The A&P Showgrounds Events Centre.  
Sunday 21 April - Ian preached at a packed Mangapapa Church on the Sunday morning and again at a 'Team Gisborne Combined Churches Service' on the Sunday evening, held at House Of Breakthrough with around 400 attending

.